How Diary / Memoir / Poet Jane Compares With Social Media Jane
an experiment in Person / Persona via lyric essay fragments
Keywords:
Lyric Essay, Persona, Memoir, Autism, Poetry, Academia, Neurodiversity
Abstract
In this creative submission, presented via lyric essay, I examine/identify many aspects of persona, including ones developed through social media use, while writing poetry, in diary/memoir writing, in visual art, and in academic writing. This essay considers how my social media persona differs from the reality, as an autistic person, as expressed through memoir writing. The essay is divided into chapters, touching upon the persona as an asset, my dependence on social media, trivial online quizzes, and speaking truth through #hashtags.
I wondered how much I might be trying to 'sell' myself to the world. I looked for differences in self as I shifted between personal memoir, Facebook and Twitter. Between those lines, I wonder if I have written the 'real' me. The notion of "researching your own life" (Forché & Gerard 2001, p. 45) is of interest to me and this essay concerns itself with who I might be on social media. If "a social media profile is meant to be a representation of an individual" (Humphrey 2017), am I speaking on behalf of myself? I would hope this essay reveals how important it is for an individual to 'story' themselves.
In choosing excerpts from these versions of self, then placing them together, I discover where the truth of 'me' exists and reveal how I have found the courage / desire to understand life through the written word.
Downloads
Download data is not yet available.
References
Ayres, S n.d., '10 Social Media Personality Types - Which One Are You?' Post Planner, viewed 13 April 2022, <https://www.postplanner.com/10-social-media-personality-types/>
Barnhart, B 2018, 'How to use social media personas to boost brand engagement', Sproutsocial, viewed 13 April 2022, https://sproutsocial.com/insights/social-media-personas/
Botha, M, Dibb, B & Frost, D 2020, '"Autism is me": an investigation of how autistic individuals make sense of autism and stigma', Taylor & Francis Online, Disability and Society, viewed 13 April 2022, <https://www.tandfonline.com/doi/full/10.1080/09687599.2020.1822782>
Bryce, C, Jahromi, L & Swanson, J 2013, 'The importance of self-regulation for the school and peer engagement of children with high-functioning autism', Research in Autism Spectrum Disorders, Volume 7, Issue 2, pp. 235-246, viewed 13 April 2022, <https://www.researchgate.net/publication/257692101_The_importance_of_self-regulation_for_the_school_and_peer_engagement_of_children_with_high-functioning_autism>
Carmen B. Pingree. Autism Center of Learning n.d., 'The Relationship With Autism And Impulse Control', Carmen B. Pingree. Autism Center of Learning, viewed 13 April 2022, <https://carmenbpingree.com/blog/the-relationship-between-autism-and-impulse-control/>
Cueto, E 2015, 'Science Says You Have No Idea What You Look Like', Bustle, viewed 13 April 2022, <https://www.bustle.com/articles/100727-people-dont-know-what-they-look-
like-according-to-science-so-all-your-selfies-are-a>
Edwards, P 2022, 'Pat Edwards reviews Be Feared by Jane Burn', Ink, Sweat and Tears, viewed 13 April 2022, <https://inksweatandtears.co.uk/pat-edwards-reviews-be-feared-by-jane-burn/>
Forché, C & Gerard, P 2001 Writing Creative Nonfiction, Story Press, Ohio, p.45.
Gillespie-Lynch, K, Hotez, E, Zajic, M, Riccio, A, DeNigris, D, Kofner, B, Bublitz, D, Gaggi & N, Luca, K 2020, 'Comparing the writing skills of autistic and nonautistic university students: A collaboration with autistic university students', Autism, Vol 24, issue 7, viewed 13 April 2022, <https://journals.sagepub.com/doi/abs/10.1177/1362361320929453>
Hu, T, Huang, M & Zheng, X 2020, 'Absence and Presence of Human Interaction: The Relationship Between Loneliness and Empathy', Frontiers in Psychology Journal, viewed 13 April 2022, <https://www.frontiersin.org/articles/10.3389/fpsyg.2020.00768/full>
Humphrey, A 2017 'User Personas and Social Media Profiles', ResearchGate, viewed 13 April 2022,<https://www.researchgate.net/publication/321907572_User_Personas_and_Social_Media_Profiles>
Mazurek, M 2013 'Social media use among adults with autism spectrum disorders', Computers in Human Behaviour, Department of Health Psychology, University of Missouri – Columbia, United States, viewed 13 April 2022 <https://dl.acm.org/doi/10.1016/j.chb.2013.02.004>
Millian, M 2022 'Online personas rarely match real-life behavior, observers say', PHYSORG, 14 May, 2010, viewed 13th April 2022, <https://phys.org/news/2010-05-online-personas-rarely-real-life-behavior.html>
Moskowitz, M & Ringertz, H 2018 'It's Time to Embrace Digital Nutrition', Elemental, viewed 13 April 2022, <https://elemental.medium.com/its-time-to-embrace-digital-nutrition-5371bd736cb>
Sevilla, J 2019 'How Emotional Vulnerability On Social Media Can Depolarize Society', Medium, viewed 13 April 2022, <https://medium.com/@johannxsevilla/how-emotional-vulnerability-on-social-media-can-depolarize-society-98df863c2c01>
Oswald, T 2020 'Autism and Trauma: Masking', OpenDoorsTherapy, viewed 13 April 2022, <https://opendoorstherapy.com/autism-and-trauma-masking/>
Wade, P 2021 'What Happens Psychologically When We're Cut Off From Social Media?' Independent, viewed 13 April 2022, https://www.independent.co.uk/life-style/health-and-families/facebook-down-social-media-addicted-b1932682.html
Yergeau, M 2018, AUTHORING autism, Duke University Press, Durham, p. 1.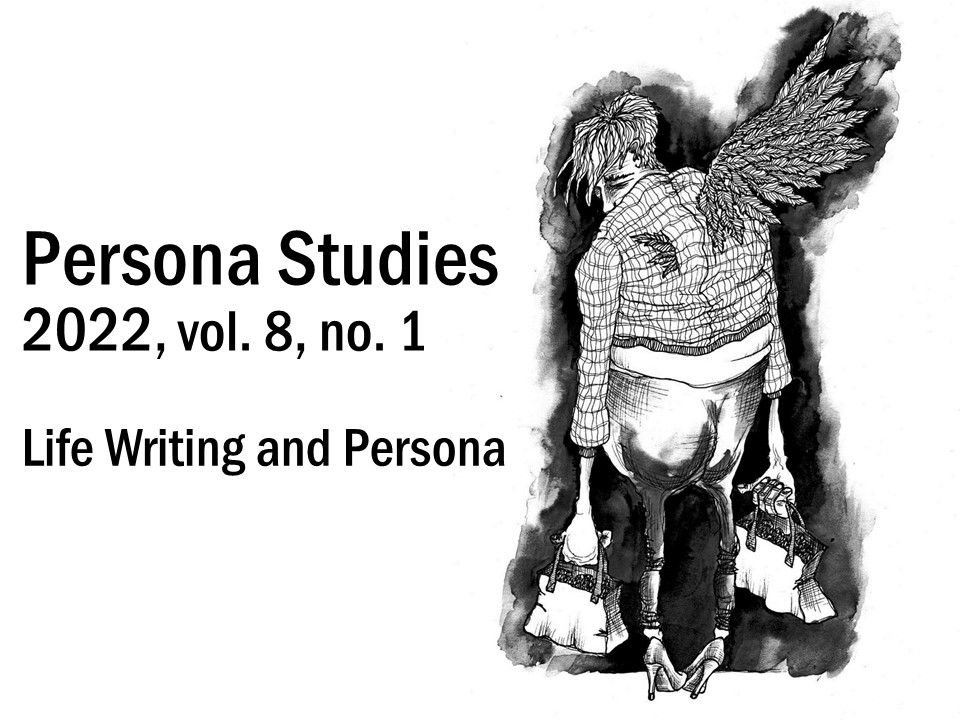 Downloads
How to Cite
Burn, J. (2022). How Diary / Memoir / Poet Jane Compares With Social Media Jane: an experiment in Person / Persona via lyric essay fragments. Persona Studies, 8(1), 52–98. https://doi.org/10.21153/psj2022vol8no1art1522
License
Copyright (c) 2022 Jane Burn
This work is licensed under a Creative Commons Attribution-NonCommercial 4.0 International License.