User Personas and Social Media Profiles
Abstract
In the world of User Experience Design, a persona isn't something that belongs to a person. Instead, personas are created by designers to act as "fictitious, specific and concrete representations of target users" (Pruitt & Adlin 2010, p. 5).
Downloads
Download data is not yet available.
References
Bragdon, A 2015, 'Introducing new audience insights for brands', Twitter Marketing, 2 July 2015, Twitter, viewed 22 November, 2017, https://blog.twitter.com/marketing/en_us/a/2015/introducing-new-audience-insights-for-brands.html
Cooper, A 2004, The inmates are running the asylum : why high-tech products drive us crazy and how to restore the sanity, Revised edn, Sams Publishing, Indianapolis, IN.
Cooper, A, Reimann, R & Cronin, D 2007, About face 3: the essentials of interaction design, John Wiley & Sons, Indianapolis.
Coorevits, L, Schuurman, D, Kathy, O & Logghe, S 2016, 'Bringing personas to life: user experience design through interactive coupled open innovation', Persona Studies, vol. 2, no. 1, pp. 97-114.
Goodman, E, Kuniavsky, M & Moed, A 2012, Observing the User Experience A Practitioner's Guide to User Research, Observing the User Experience : A Practitioner's Guide to User Research, 2nd edn, eds M Kuniavsky & A Moed, Elsevier Science, Burlington.
Moore, C, Barbour, K & Lee, K 2017, 'Five dimensions of online persona', Persona Studies, vol. 3, no.1.
Ortbal, K, Frazzette, N & Mehta, K 2016, 'Constructed Stakeholder Personas: An Educational Tool for Social Entrepreneurs', Procedia Engineering, vol. 159, pp. 230-248.
Pruitt, J & Adlin, T 2005, The persona lifecycle: keeping people in mind throughout product design, Morgan Kaufmann, San Francisco.
Revella, A 2015, Buyer Personas: How to Gain Insight Into Your Customer's Expectations, Align Your Marketing Strategies, and Win More Business, John Wiley & Sons, Hoboken.
Varol, O, Ferrara, E, Davis, CA, Menczer, F & Flammini, A 2017, 'Online human-bot interactions: Detection, estimation, and characterization', arXiv.
Ward, JL 2010, 'Persona development and use, or, how to make imaginary people work for you', paper presented at 2010 Library Assessment Conference, Baltimore, MD, 25-27 October.
Wodtke, C & Govella, A 2009, Information Architecture: Blueprints for the Web, second edn, New Riders, Berkley, CA.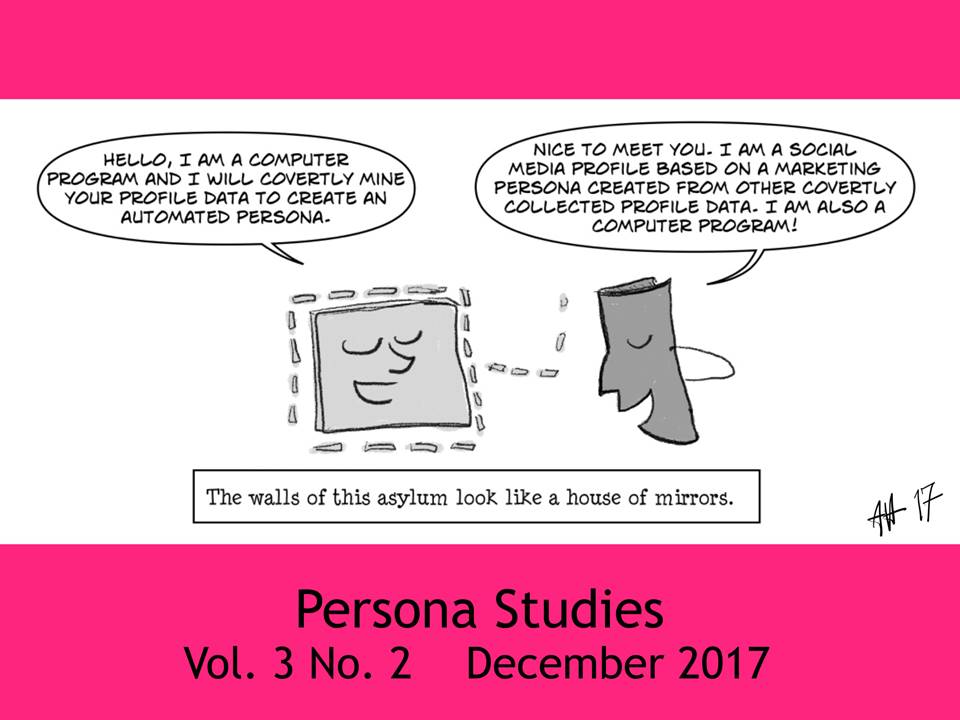 Downloads
How to Cite
Humphrey, A. (2017). User Personas and Social Media Profiles. Persona Studies, 3(2), 13–20. https://doi.org/10.21153/ps2017vol3no2art708
Section
Creative Practice
License