Positioning in Personal Games: Perspectives of the Author-Player Persona in Memoir En Code: Reissue
Keywords:
autobiographical games, player positioning, perspective, narrative agency
Abstract
In creating autobiographical narratives through games, there exists a new theoretical problem in the game-player tension: how may a game creator relate their own story through a medium that relies primarily on another (the player) to execute? The blurring and shifting lines between the game creator and player resemble the same death knell Roland Barthes sounds for the literary Author in "La mort de l'auteur" (1967). This paper proposes a more nuanced theory for understanding the 'player positioning' of autobiographical games with a triangulated framework. The player position is a player/author persona collaboration that facilitates a shared presence in the game space through various ratios of three positions: the player as the protagonist, protagonist-proxy, and witness. Through a close reading of the autobiographical game Memoir En Code: Reissue by Alex Camilleri, the paper explores how the player may perceive the autobiographical game. Viewed through the protagonist, protagonist-proxy, and witness lens, the paper interrogates how the player position alters the nature of player-author identity within the game. It offers an approach for considering how the different perspectives of the author-player persona offer meaningful game(play), and argues for the shifting presentation of the author-player persona as an effective negotiation of a shared experience in the design of autobiographical games.
Downloads
Download data is not yet available.
References
Apperley, TH & Clemens, J 2017, 'Flipping out: Avatars and identity', in Boundaries of Self and Reality Online, Elsevier, pp. 41–56.
Barros, CA 1998, Autobiography: Narrative of transformation, University of Michigan Press.
Crick, T 2011, 'The game body: Toward a phenomenology of contemporary video gaming', Games and Culture, vol. 6, no. 3, pp. 259–269.
Barthes, R 1977 [1967], 'The Death of the Author', in Image, Music, Text, Translated by S. Heath. Fontana Press, London, pp. 142-148.
Camilleri, A 2016a, Memoir en Code: Reissue, videogame https://www.memoirencode.com/
Camilleri, A 2016b, retrieved from https://twitter.com/alexkalopsia/status/778641053683486721
Camileri, A 2016c, 'Memoir En Code Presskit', retrieved from https://www.kalopsiagames.com/press/sheet.php?p=Memoir%20En%20Code%20Reissue
Dziff 2016, Sacramento, videogame https://dziff.itch.io/sacramento
Ensslin, A 2009, 'Respiratory narrative: Multimodality and cybernetic corporeality in "physio- cybertext"', in New perspectives on narrative and multimodality, Routledge, pp. 169–179.
Hsia, J 2017, and i made sure to hold your head sideways, videogame https://q_dork.itch.io/and-i-made-sure-to-hold-your-head-sideways
Gibson, S 2017, My Computer, videogame https://sgx.itch.io/my-computer
Godliman, A 2016, Mushrooms Red As Meat, videogame https://acgodliman.itch.io/mushrooms-red-as-meat
Koenitz, H 2017, 'Beyond "Walking Simulators"–Games as the Narrative Avant-Garde'.
Lee, M 2015, Indelible, videogame https://melodily.itch.io/indelible
Merleau-Ponty, M. and Smith, C., 1962. Phenomenology of perception (Vol. 2012). Routledge, London.
Miller, CH 2004. Digital storytelling: a creator's guide to interactive entertainment, Elsevier/Focal Press, Amsterdam Boston
Roine, H-R 2015, 'How You Emerge from This Game Is Up to You: Agency, Positioning, and Narrativity in The Mass Effect Trilogy', in Narrative Theory, Literature, and New Media, Routledge, pp. 67–86.
Shaw, A 2011, '"He could be a bunny rabbit for all I care": Exploring identification in digital games'.
Tanenbaum, K, Tanenbaum, T 2009, 'Commitment to Meaning: A Reframing of Agency in Games' Wardrip-Fruin, N, Mateas, M, Dow, S & Sali, S 2009, 'Agency Reconsidered.'
Tanenbaum, K, Tanenbaum, T 2010. 'Agency as commitment to meaning: communicative competence in games', Digital Creativity, vol. 21, no. 1, pp. 11–17.
Waggoner, Z 2009, My Avatar, My Self: Identity in Video Role-Playing Games, McFarland, Incorporated, Publishers.
Werning, S 2017, 'The persona in autobiographical game-making as a playful performance of the self', Persona Studies, vol. 3, no. 1, pp. 28–42.
Wilde, P 2018, 'Avatar affectivity and affection.', Transformations (14443775), no. 31.
Wood, H 2017, 'Dynamic Syuzhets: Writing and Design Methods for Playable Stories', in Springer, pp. 24–37.
Yee, N & Bailenson, J 2007, 'The Proteus effect: The effect of transformed self- representation on behavior', Human communication research, vol. 33, no. 3, pp. 271–290.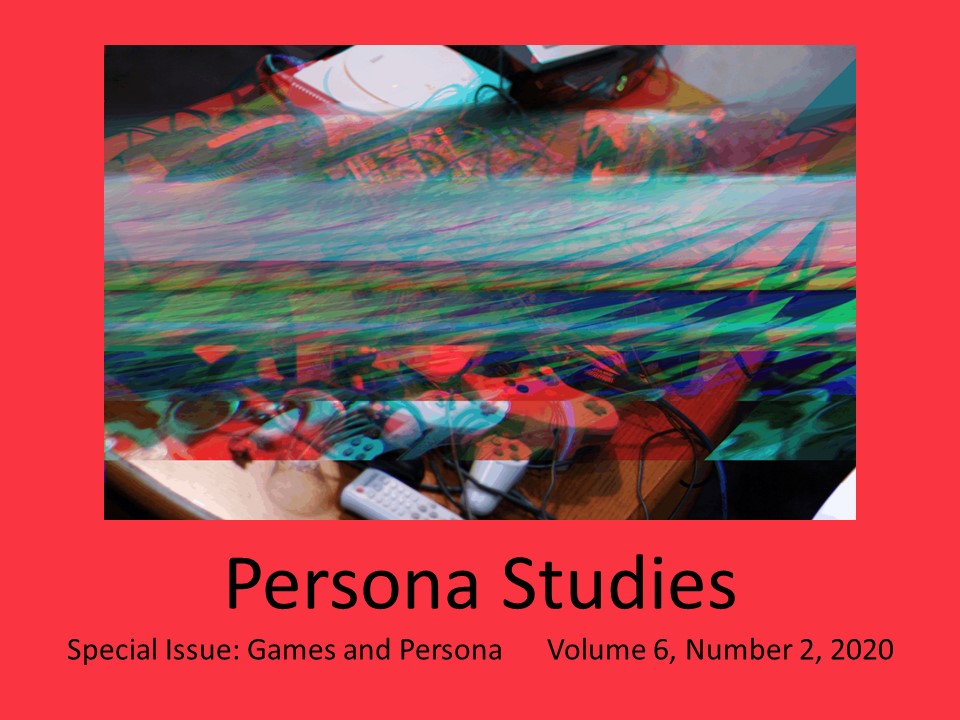 Downloads
How to Cite
Henderson, T. (2021). Positioning in Personal Games: Perspectives of the Author-Player Persona in Memoir En Code: Reissue. Persona Studies, 6(2), 88–100. https://doi.org/10.21153/psj2020vol6no2art969
License