Mapping Persona and Games
Abstract
For those new to games studies, the most important primer is the recognition that, as a field of research, it is at its most revealing when in conversation with perspectives from other fields and domains of inquiry. Espen Aarseth (2001) announced that the first issue of Game Studies, the international journal of computer game research, marked the commencement of computer game studies. Aarseth's editorial launched the trajectory for the following two decades of game research, obscuring much of the previous work examining digital and analogue games that had contributed to the tipping point at which the fields' coalescence could become a reality. Emerging from media studies, sociology, and a particular tradition of textual analysis in cinema and literature studies, games studies has since had a reputation for being the latest kid on the block. Like persona studies, game studies features key moments in which intersections between it and other fields and their theoretical and analytical perspectives prove enlightening, enriching, and even entertaining.
Downloads
Download data is not yet available.
References
Aarseth, A 2001, 'Computer Game Studies, Year One', Games Studies, vol.1, no.1, np. retrieved 3 March 2021, http://www.gamestudies.org/0101/editorial.html
Albarrán-Torres, C & Apperley, T 2019, 'Poker avatars: affective investment and everyday gambling platforms', Media International Australia, vol.172, no.1, pp. 103–113, doi: 10.1177/1329878X18805088.
Apperley, T & Clemens, J 2016, 'The biopolitics of gaming: Avatar-player self-reflexivity in Assassin's Creed I, The play versus story divide in game studies: Critical essays, M. W. Kapell Ed. McFarland & Copp. Jefferson, pp. 110–124.
—2017. 'Flipping Out: Avatars and Identity', Boundaries of Self and Reality Online: Implications of Digitally Constructed Realities (Jake Gackenback, and Jonathan Bown Eds. Academic Press, London.
de Wildt, L Apperley, T Clemens, J Fordyce, R & Mukherjee, S 2019, '(Re-)Orienting the Video Game Avatar', Games and Culture, vol. 15, no. 8, pp. 1-19, DOI: 10.1177/1555412019858890
Dahya, N Jenson, J & Fong K 2017, "(En)gendering videogame development: A feminist approach to gender, education, and game studies", Review of Education, Pedagogy, and Cultural Studies, vol. 39 no. 4, pp. 367-390, DOI: 10.1080/10714413.2017.1344508
Frasca, G 2003, 'Ludologists love stories, too: notes from a debate that never took place', Proceedings of the 2003 DiGRA International Conference: Level Up, retrieved 3 March 2021, http://www.digra.org/digital-library/publications/ludologists-love-stories-too-notes-from-a-debate-that-never-took-place/
Huizinga, H 1970 [1938], Homo Ludens: A Study of the Play Element in Culture. Temple Smith, London.
Keogh, B 2018. A Play of Bodies How We Perceive Videogames, MIT Press. London.
Marshall, P. D, Moore, C & Barbour, K 2020, Persona Studies: An Introduction. John Wiley and Sons, Hoboken, NJ.
Marshall, P. D & Barbour K 2015, 'Making Intellectual Room for Persona Studies: A New Consciousness and a Shifted Perspective', Persona Studies vol. 1, no. 1, pp. 1–12, https://doi.org/10.21153/ps2015vol1no1art464.
Montford, N & Bogost, I 2009. Racing the Beam: The Atari Video Computer System, MIT Press, London.
Moore, C 2010, 'Hats of Affect: A Study of Affect, Achievements and Hats in Team Fortress 2', Game Studies, vol. 11, no. 1. retrieved 3 March 2021, http://gamestudies.org/1101/articles/moore
—2011, The magic circle and the mobility of play. Convergence: The International Journal of Research into New Media Technologies 17(4) 373–387 DOI: 10.1177/1354856511414350
—2012, 'Invigorating Play: The Role of Affect in Online Multiplayer FPS Game', in Guns, Grenades, and Grunts First-Person Shooter Games, edited by Gerald A. Voorhees, Josh Call, Katie Whitlock, Continuum, London.
—2014, 'Screenshots as virtual photography, digital media objects and the production of online persona', Repurposing the Digital Humanities: Research, Methods, Theories, Katherine Bode and Paul Arthur eds., Continuum: London
—2020, 'An Approach to Online Fan Persona', Transformative Works and Culture, Vol 33., https://doi.org/10.3983/twc.2020.1703
Pargman D & Jakobsson P 2008, 'Do you believe in magic? Computer games in everyday life', European Journal of Cultural Studies, vol. 11, no. 2, pp. 225–244.
Ruberg, B & Shaw, A 2017, Queer Game Studies, University of Minnesota Press: Minnesota.
van Ryn, L, Apperley, T & Clemens, J 2018, 'Avatar Economies: affective investment from game to platform', New Review of Hypermedia and Multimedia, vol. 24, no.4, pp. 291–306 DOI: 10.1080/13614568.2019.1572790
Salen K & Zimmerman E 2004, Rules of Play Game Design Fundamentals. MIT Press. London.
Shao, R & Wang, Y 2019, The Relation of Violent Video Games to Adolescent Aggression: An Examination of Moderated Mediation Effect." Frontiers in Psychology, retrieved 3 March 2021, https://doi.org/10.3389/fpsyg.2019.00384.
Ta, D 2014, Cultivating Virtual Stereotypes?: The Impact of Video Game Play on Racial/Ethnic Stereotypes, The Howard Journal of Communications, vol. 25, no. 1, pp. 1-15.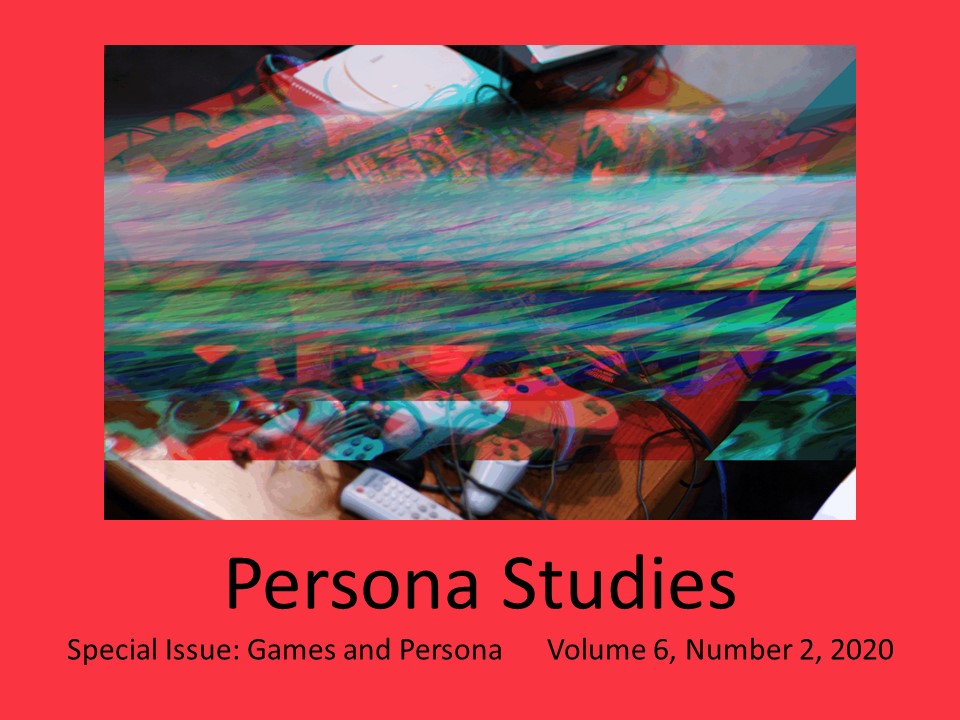 Downloads
How to Cite
Moore, C. (2021). Mapping Persona and Games. Persona Studies, 6(2), 1–6. https://doi.org/10.21153/psj2020vol6no2art1038
License