Domesticity and Persona
Abstract
Because personas are performances of identity, strategically enacted for an immediate or imagined audience, the study of personas to date has concentrated on the public realm of life. Professional personas enacted in workplaces have taken up much attention, whether for artists, comedians, scientists, actors, musicians, or politicians. Similarly (and often overlapping the professional persona), the performance of self online that is constituted in and through social media has proven a generative space for research. Mediatised personas generally open up a space for understanding persona performances, while the non-human, the institutional, the collectively constituted persona come as a logical extension of the theorisation of persona as strategic identity display.
Downloads
Download data is not yet available.
References
Alon, T, Doepke, M, Olmstead-Rumsey, J & Tertilt, M 2020, 'This Time It's Different: The Role of Women's Employment in a Pandemic Recession', Working Paper. Working Paper Series. National Bureau of Economic Research. <https://doi.org/10.3386/w27660>
Arendt, H 1958, The Human Condition. University of Chicago Press, Chicago.
Bailey, M 2021, Misogynoir Transformed: Black Women's Digital Resistance. NYU Press, New York.
Baxter, J 2015, 'Gender Role Attitudes within Couples, and Parents' Time in Paid Work, Child Care and Housework', The Longitudinal Study of Australian Children Annual Statistical Report 2014, Australian Institute of Family Studies. AIFS, Melbourne, retrieved 19 April 2022, <https://aifs.gov.au/3-gender-role-attitudes-within-couples-and-parents-time-paid-work-child-care-and-housework>
Borah Hazarika, O, & Das, S 2021, 'Paid and Unpaid Work during the Covid-19 Pandemic: A Study of the Gendered Division of Domestic Responsibilities during Lockdown', Journal of Gender Studies, vol. 30, no. 4, pp. 429–39, <https://doi.org/10.1080/09589236.2020.1863202>
Bramall, R 2013, The Cultural Politics of Austerity: Past and Present in Austere Times. Springer.
Craig, L & Churchill, B 2021, 'Working and Caring at Home: Gender Differences in the Effects of Covid-19 on Paid and Unpaid Labor in Australia', Feminist Economics, vol. 27, no. 1–2, pp. 310–26, <https://doi.org/10.1080/13545701.2020.1831039>
Ervin, J, Taouk, Y, Alfonzo, LF, Hewitt, B & King, T 2022, 'Gender Differences in the Association between Unpaid Labour and Mental Health in Employed Adults: A Systematic Review', The Lancet Public Health, vol. 7, no. 9, pp. e775–86, <https://doi.org/10.1016/S2468-2667(22)00160-8>
Heynen, H & Baydar, G 2005, Negotiating Domesticity: Spatial Productions of Gender in Modern Architecture. Taylor & Francis Group, Florence, UNITED STATES.
Kay, JB 2020, '"Stay the Fuck at Home!": Feminism, Family and the Private Home in a Time of Coronavirus', Feminist Media Studies, vol. 20, no. 6, pp. 883–88, <https://doi.org/10.1080/14680777.2020.1765293>
Kennedy, J, Arnold, M, Gibbs, M, Nansen, B & Wilken, R 2020, Digital Domesticity: Media, Materiality, and Home Life, Oxford University Press, Oxford, New York.
Martin, J 2021, 'Keep Crafting and Carry on: Nostalgia and Domestic Cultures in the Crisis', European Journal of Cultural Studies, vol. 24, no. 1, pp. 358–64, <https://doi.org/10.1177/1367549420958718>
Moore, C & Barbour, K 2016, 'Performing the Networks of Domestic and Public Persona', Persona Studies, vol. 2, no. 1, pp. 1–11, <https://doi.org/10.21153/ps2016vol2no1art592>
Moore, C, Barbour, K & Lee, K 2017, 'Five Dimensions of Online Persona', Persona Studies, vol. 3, no. 1, pp. 1–12, <https://doi.org/10.21153/ps2017vol3no1art658>
Oliveira, ALM de & Alloatti, MN 2022, 'Gendering the Crisis: Austerity and the Covid-19 Pandemic in Brazil', Economia Politica, vol. 39, no. 1, pp. 203–24, <https://doi.org/10.1007/s40888-021-00243-7>
Parry, BR & Gordon, E 2021, 'The Shadow Pandemic: Inequitable Gendered Impacts of COVID-19 in South Africa', Gender, Work & Organization, vol. 28, no. 2, pp. 795–806, <https://doi.org/10.1111/gwao.12565>
Raday, F 2019, 'Gender Equality and Women's Rights in the Context of Child Custody and Child Maintenance: An International and Comparative Analysis', UN Women Discussion Paper Series No. 30. UN, New York <https://doi.org/10.18356/02fdcba7-en>
Sales, L, Francis, L & Robb, K 2021, 'Women Are Still Doing Most of the Housework', ABC News, August 30, 2021, <https://www.abc.net.au/news/2021-08-31/division-of-domestic-labour-continues-to-land-heavily-on-women/100418942>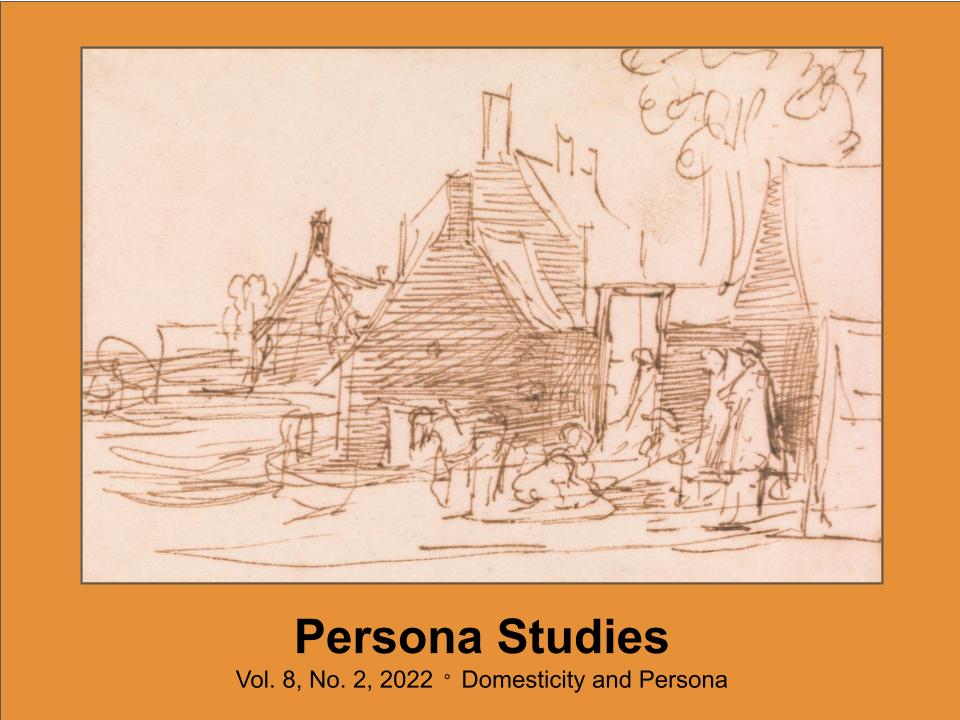 Downloads
How to Cite
Barbour, K., & Humphrey, M. (2023). Domesticity and Persona. Persona Studies, 8(2), 1–6. https://doi.org/10.21153/psj2022vol8no2art1716
License
Copyright (c) 2023 Kim Barbour, Michael Humphrey
This work is licensed under a Creative Commons Attribution-NonCommercial 4.0 International License.