Do alumni practise what you teach? Impact of Science master-tracks: preparation for academic careers versus preparation for societal-oriented careers
Abstract
Career development of Science students seems dependent on more than disciplinary education, such as the nature and focus of career preparation. In this study we compare graduate outcomes of science students at the University of Groningen, completing two master-level program streams with different focal points, by using career progress surveys from alumni (n=242) with self-reported societal development data. The first program is a classical research-oriented master (ROM), that aims to prepare students for a career within academia. The second program, called Science, Business and Policy (SBP) focusses on a societal profile and aims to prepare for a career outside academia.
SBP is different from ROM because it has a practical and multidisciplinary orientation (vs a theoretical and mono-disciplinary orientation in ROM) and it includes a long work-placement outside academia, a form of work based learning. The differences in the tracks translate to differences in career paths. Both profiles resulted in good but distinct career opportunities, corresponding to alumni's discipline and sector. Although ROM-alumni felt especially prepared for an academic career, only a quarter actually continued in academia and many we employed in education. In contrast, most SBP-alumni were employed in business or policy. Targeting specific job preparation seems more successful with a societal profile. Reflecting on skills, in both groups research-related skills decreased during careers while soft skills increased. Alumni were generally satisfied with their first job and also with their current job, with SBP-alumni scoring significantly higher on satisfaction with income, status, appreciation and perspective. It can be concluded that diversification in educational profiles changes the societal career paths of science students.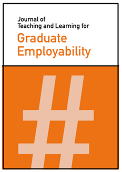 Downloads
How to Cite
Grooters, S., Zaal, E., Ongena, Y., & Gerkema, M. (2023). Do alumni practise what you teach? Impact of Science master-tracks: preparation for academic careers versus preparation for societal-oriented careers. Journal of Teaching and Learning for Graduate Employability, 14(1), 119–135. https://doi.org/10.21153/jtlge2023vol14no1art1666
License
Copyright (c) 2023 Saskia Grooters, Emma Zaal, Yfke Ongena, Menno Gerkema
This work is licensed under a Creative Commons Attribution-NonCommercial 4.0 International License.