Graduate employability skills through online internships and projects during the COVID-19 Pandemic: An Australian example.
Robert Joseph Gill

Swinburne University of Technology
Keywords:
Professional Purpose, Employability Skills, COVID-19, Remote Working
Abstract
During the COVID-19 pandemic many students undertaking professional placements and internships had to leave their physical place of employment due to restrictions. Some students doing professional experiences lost their placement, while others entered work arrangements where they worked online remotely. This paper investigates the potential advantage from their experiences in terms of now being more capable in online work skills due to remote working, as the professional world potentially moves to a more flexible working arrangement that may include a remote working environment mixed with an office environment. It investigates, through a case study methodology analysing assessment content from student experiences, the type of new professional purpose that may evolve as a result of a changing workforce environment.
References
Arruda, W. (2020, May 7). 6 Ways COVID-19 Will Change the Workplace Forever. Forbes. Available at: https://www.forbes.com/sites/williamarruda/2020/05/07/6-ways-COVID-19-will-change-the-workplace-forever/#5fee5709323e
Belwal, R., Priyadarshi, P. and Al Fazari, M.H. (2017). Graduate attributes and employability skills: Graduates' perspectives on employers' expectations in Oman, International Journal of Educational Management, 31 (6), 814-827. doi.org/10.1108/IJEM-05-2016-0122
Boston Consulting Group (BCG). (2020, May 18). People Priorities in the Ramp-Up and Return to Work. Available at: https://www.bcg.com/en-au/publications/2020/people-priorities- returning-to-work-post-covid.aspx
Bishop, K. (2020, May 23). The Pandemic And The Influencer: Will The Lifestyle Survive Coronavirus?. The Guardian. Available at: www.theguardian.com/media/2020/may/02/influencers- coronavirus-future-income-marketing-lifestyle
Cohen, L. (2020, March 26). The coronavirus is changing how we work — possibly permanently. The Conversation. Available at: https://theconversation.com/the-coronavirus-is-changing-how-we-work-possibly-permanently-134344
Cook, D. (2020). The freedom trap: digital nomads and the use of disciplining practices to manage work/leisure boundaries. Information Technology & Tourism. doi.org/10.1007/s40558-020-
Flanders, P. (2020, April 20). How will flexible working change in a post-COVID-19 environment? ADNews. Available at: https://www.adnews.com.au/opinion/how-will-flexible-working-change-in-a-post-COVID-19-environment
Author….
González, C., Espinoza, O., Sandoval, L., McGinn, N. and Castill, D. (2020). The limited value of 'employability' as an objective in the training of Psychologists: Evidence from Chile. Learning and Teaching, 11(1), 50-62. doi: 10.21153/jtlge2020vol11no1art920
Knaus, C., (2020, April 7). Coronavirus Crisis Has Had Staggering Impact On Australian Businesses, Data Reveals. [online] The Guardian. Available at: https://www.theguardian.com/australia- news/2020/apr/07/coronavirus-crisis-has-had-staggering-impact-on-australian-businesses- data-reveals
Krippendorff, K. (2004). Content analysis: an introduction to its methodology. Beverly Hills CA: Sage.
Lawson, C., Gill, R., Feekery, A. and Witsel, M. (2019). Communication Skills for Business Professionals. Port Melbourne: Cambridge University Press.
Morning Consult. (2020, July 8). The Future of Work, How the Pandemic has altered Expectations of Remote Work. Institute for Public Relations- IPR Research Letter.
Mudditt, J. (2020, May 15). How offices will change after coronavirus. BBC Worklife. Available at: https://www.bbc.com/worklife/article/20200514-how-the-post-pandemic-office-will-change
Neuendorf, K. (2002). The content analysis guidebook. Thousand Oaks, CA: Sage.
Oraison, H., Konjarski, L., and Howe, S. (2019). Does university prepare students for employment? Alignment between graduate attributes, accreditation requirements and industry employability criteria. Journal of Teaching and Learning for Graduate Employability, 10(1), 173–194.
Rowe, A. D., & Zegwaard, K. E. (2017). Developing graduate employability skills and attributes: Curriculum enhancement through work-integrated learning. Asia-Pacific Journal of Cooperative Education, 18(2), 87–99.
Shoenfelt , E.L., Stone, N.J. and Kottke, J.L. (2013). Internships: An Established Mechanism for Increasing Employability. Industrial and Organizational Psychology, 6 (1), 24-27. doi.org/10.1111/iops.12004
Wedel, M., and Kamakura, W. (2000). Clustering Methods. Marketing Segmentation. Conceptual and Methodological Foundations. Boston: Kluwer Academic.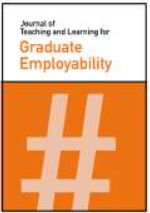 How to Cite
Gill, R. J. (2020). Graduate employability skills through online internships and projects during the COVID-19 Pandemic: An Australian example. Journal of Teaching and Learning for Graduate Employability, 11(1), 146-158. https://doi.org/10.21153/jtlge2020vol11no1art946