The move to micro-credentials exposes the deficiencies of existing credentials
Provocation
Abstract
The rush to short courses and use of micro-credentials prompted by responses to the pandemic has greatly accelerated a trend already underway. However, few studies have examined the impact of short courses or micro-credentials on skills or employment outcomes, and this hasty move draws attention to major problems in the ways in which higher education credentials - macro and micro -are designed and assessed.
References
Commonwealth of Australia. (2015). Higher Education Standards Framework (Threshold Standards). Canberra: Australian Government
Department of Education Skills and Employment. (2020). Short, online courses available. Retrieved from https://www.dese.gov.au/news/short-online-courses-available
Department of Jobs and Small Business. (2019). Australian Jobs 2019. Australian Government Retrieved from https://docs.employment.gov.au/system/files/doc/other/australianjobs2019.pdf
Jorre de St Jorre, T. (2019). Sharing achievement through digital credentials: Are universities ready for the transparency afforded by a digital world? In M. Bearman, P. Dawson, R. Ajjawi, J. Tai, & D. Boud (Eds.), Re-imagining University Assessment in a Digital Worlds (pp. 277–288). Switzerland: Springer.
Tholen, G., & Brown, P. (2017). Higher education and the myths of graduate employability. In R. Waller, N. Ingram & M. R. M. Ward (Eds.), Higher education and social inequalities: University admissions, experiences and outcomes (pp. 153-166). London: Routledge.
Tomaszewski, W., Perales, F., Xiang, N., & Kubler, M. (2019). Beyond graduation: Long-term socioeconomic outcomes amongst equity students. WA: National Centre for Student Equity in Higher Education.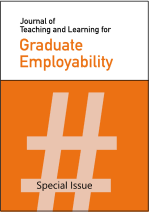 Downloads
How to Cite
Boud, D., & Jorre de St Jorre, T. (2021). The move to micro-credentials exposes the deficiencies of existing credentials: Provocation. Journal of Teaching and Learning for Graduate Employability, 12(1), 18–20. https://doi.org/10.21153/jtlge2021vol12no1art1023
License