Requesting on WhatsApp: The interplay of interactional competence and deontics in English as an additional language
Keywords:
interactional competence, L2 English, WhatsApp, text chats, conversation analysis, interactional linguistics
Abstract
This exploratory study focuses on changes in the accomplishment of requests by an adult English as an additional language speaker/learner interacting on WhatsApp for nine months. The analysis follows a microanalytic approach to digital interaction informed by recent developments within longitudinal conversation analysis. It unpacks the array of semiotic and interactional resources that the focal learner employs to make class-related requests to the teacher. Longitudinal comparison of four request sequences over time suggests that the differences in how the requesting posts are designed and responded to index both increased interactional competence to accomplish requests in English on WhatsApp - through more contextually-sensitive and conventional semiotic resources - as well as evolving socio-interactional ties and related deontic concerns between the learner and the teacher. Despite the popularity of text chats, only a handful of studies have investigated the practices employed by additional language learners to engage in text chat interaction change over time and this work has not focused on naturally occurring interactions or on requesting. The present study thereby contributes new understandings to text chat interaction with additional language speakers and to longitudinal research on interactional competence development in online settings.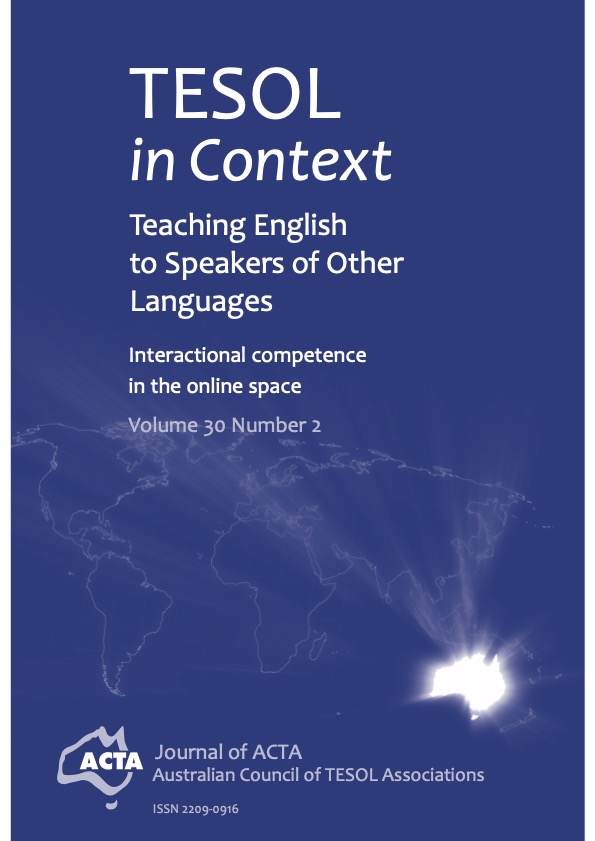 Downloads
How to Cite
Malabarba, T. (2022). Requesting on WhatsApp: The interplay of interactional competence and deontics in English as an additional language . TESOL in Context, 30(2). https://doi.org/10.21153/tesol2022vol30no2art1516