The Niichii Project: Revitalizing Indigenous Language in Northern Canada
Keywords:
Indigenous pedagogies, Indigenous language revitalization, children's Indigenous identities, intergenerational learning, experiential learning, oral tradition, land-based pedagogies, spirituality in learning, relational pedagogical processes
Abstract
Two Anishnabek kindergarten teachers discuss four principles of Indigenous pedagogies in a project with a university researcher that created a context for children to engage in activities to learn their Anishnabek language and culture, and create positive identities. The university researcher sent a rabbit puppet named Niichii (Friend), who was assigned the role of an Anishnaabek child whose family was from their Indigenous community but had moved away. Taking the role of Niichii's Kokum (Grandmother), the university researcher asked the child to teach Niichii the community's language and traditional ways. The teachers describe and interpret the learning activities of the Niichii project in terms of four elements of Indigenous pedagogies: intergenerational learning; experiential learning; spiritual learning involving interconnections with the land; and learning about relationality. Implications for other bilingual and multilingual contexts include creating role play contexts where children are positioned as teachers and helpers to support an imaginary character's language and cultural learning, building on children's funds of knowledge and highlighting cultural connections to the local community.
References
Battiste, M. (2008). The struggle and renaissance of Indigenous knowledge in Eurocentric education. In M. Villegas, S. Rak Neugebauer, & K.R. Venegas (Eds.), Indigenous knowledge and education: Site of struggle, strength, and survivance, (pp. 85-91). Cambridge, MA: Harvard Educational Publishing Group.
Cairney, T. H. (2003). Literacy within family life. In N. Hall, J. Larson & J. Marsh (Eds.), Handbook of early childhood literacy (pp. 85-98). London, England: Sage.
Elek, C., Gubhaju, L., Lloyd-Johnsen, C., Eades, S., & Goldfeld, S. (2020). Can early childhood education programs support positive outcomes for Indigenous children? A systematic review of the international literature. Educational Research Review, 31, 1-14. https://doi.org/10.1016/j.edurev.2020.100363
First Peoples' Cultural Council. (2016). Language program overview. https://fpcc.ca/stories/story_area/language/
Fleer, M. (2004). The cultural construction of family involvement in early childhood education: Some Indigenous Australian perspectives. The Australian Educational Researcher, 31(3), 51-68. https://doi.org/10.1007/BF03249528
Flückiger, B., Diamond, P., & Jones, W. (2012). Yarning space: Leading literacy through family- school partnerships. Australasian Journal of Early Childhood, 37(3), 53-59. https://doi.org/10.1177/183693911203700308
Hare, J. (2015). Indigenous pedagogies in early learning settings: Linking community knowledge to school-based learning. In A. Anderson, J. Anderson, J. Hare & M. McTavish. (Eds.), Language, learning, and culture in early childhood: Home, school, and community contexts (pp. 197-213). New York: Routledge.
Hare, J., & Anderson, J. (2010). Transitions to early childhood education and care for indigenous children and families in Canada: Historical and social realities. Australasian Journal of Early Childhood, 35(2), 19-27. https://doi.org/10.1177/183693911003500204
Indigenous Language Research Network. (n.d.). NETOLNEW: Our project. https://netolnew.ca/project/
Keary, A., & Kirkby, J. (2017). 'Language shades everything': considerations and implications for assessing young children from culturally and linguistically diverse backgrounds. TESOL in Context, 26(1), 27-44. https://doi.org/10.21153/tesol2017vol26no1art705705
Neha, T., Reese, E., Schaughency, E., & Taumoepeau, M. (2020). The role of whãnau (NewZealand Mãori families) for Mãori children's early learning. Developmental Psychology, 56(8), 1518-1531. https://doi.org/10.1037/dev0000835
Rameka, L. K. (2011). Being Mãori: Culturally relevant assessment in early childhood education. Early Years, 31(3), 245-256. https://doi.org/10.1080/09575146.2011.614222
Truth and Reconciliation Commission of Canada. (2015). Truth and reconciliation commission of Canada: Calls to action. Winnipeg, MB: Author. http://www.trc.ca/websites/trcinstitution/File/2015/Findings/Calls_to_Action_English2.pdf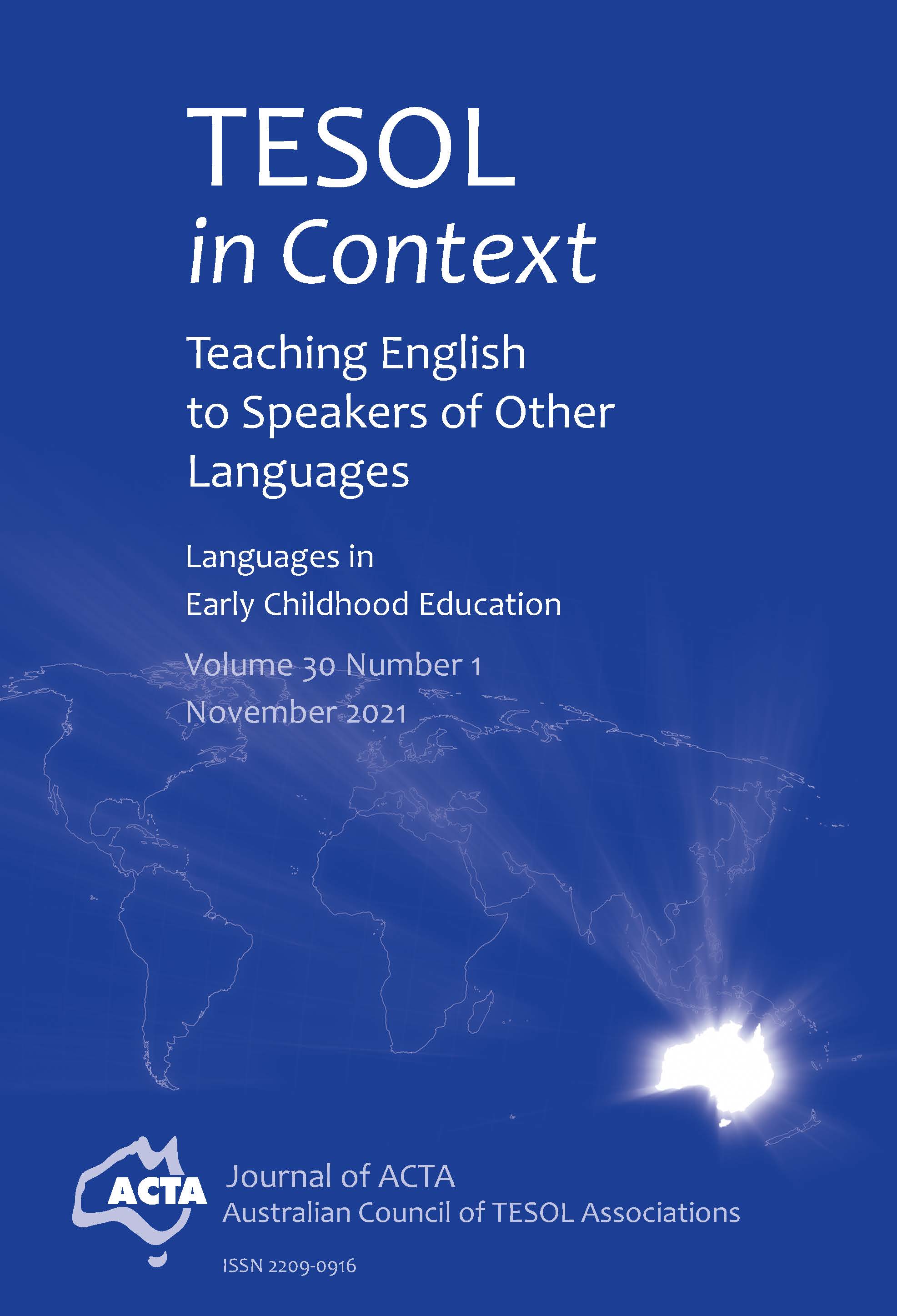 Downloads
How to Cite
Peterson, S. S., Manitowabi, Y., & Manitowabi, J. (2021). The Niichii Project: Revitalizing Indigenous Language in Northern Canada. TESOL in Context, 30(1), 85–104. https://doi.org/10.21153/tesol2021vol30no1art1582
License
Copyright (c) 2021 TESOL in Context
This work is licensed under a Creative Commons Attribution-ShareAlike 4.0 International License.