The Ethics of TESOL a quarter century on
Keywords:
Ethics in TESOL, Professional practice in TESOL, Australian TESOL, impact of TESOL on learners, changes in Australian TESOL
Abstract
Discussion of ethical considerations in Australian TESOL began 25 years ago, with arguments about the need for TESOL professionals to be aware of the potentially harmful consequences of their work, the loss of first language proficiency, and even the loss of languages themselves (Williams, 1992, 1995). The intervening quarter of a century has seen sweeping changes to the context in which TESOL professionals work and developments in our professional knowledge about the processes and consequences of TESOL professional practice (Canagarajah, 1999; Phillipson, 1992, 2013). In this paper developments in the sociocultural context of TESOL, the general education context and the TESOL professional context are explored. This article revises the arguments about ethical directions in TESOL presented a quarter century ago to take account of these changes. Guiding principles for individuals and professional bodies are identified. It is argued that our role is to sensitively help our learners to explore the potential consequences of the learning of English, and for professional bodies to take an active role in advocacy given the impact of globalization processes, more centralized curriculum and assessment frameworks, and the relatively reduced capacity of individual teachers to influence the institutions that employ them.
References
Atkinson, M. (2014). Reframing literacy in adult ESL programs: Making the case for the inclusion of identity. Literacy and Numeracy Studies, 22(1), 3-20. doi: 10.5130/ lns.v22i1.4176
Bertone, S. (2000). ACTA Background Paper No. 5: Casualisation of the ESL workforce in Australia. TESOL in Context, 10(1), 28-36.
Bisong, J. (1995). Language choice and cultural imperialism: a Nigerian perspective. ELT Journal, 49(2), 122-132. doi:10.1093/elt/49.2.122
Canagarajah, A. S. (1999). Resisting linguistic imperialism in English teaching. Oxford, UK: Oxford University Press.
Castles, S., de Haas, H., & Miller, M. (2014). The age of migration: International population movements in the modern world, 5th edn. Basingstoke: Palgrave Macmillan.
Kirkpatrick, A. (2007). World Englishes: Implications for international communication and English language teaching. Cambridge: Cambridge University Press.
Norton, B & K. Toohey (eds.) (2004). Critical pedagogies and language learning. Cambridge: Cambridge UP.
Oliver, R., Rochecouste, J., & Nguyen, B. (2017). ESL in Australia - a chequered history. TESOL in Context, 26(1), 7-26. doi: 10.21153/tesol2017vol26no1art700700
Pennycook, A. (1998), English and the discourses of colonialism. London: Routledge.
Phillipson, R. (1992). Linguistic imperialism. Oxford: Oxford University Press.
Phillipson, R. (2013). TESOL expertise in the empire of English. TESOL in Context, 22(2), 5-16.
Scheller, M. (2011). Mobility. Sociopedia.isa. doi: 10.1177/ 205684601163
Williams, A. (1992). The ethics of TESOL. TESOL in Context, 2(2), 4-5.
Williams, A. (1995). TESOL and cultural incorporation: Are we doing the devil's work? TESOL in Context, 5(1), 21-24.
Williams, A. & Setijadi-Dunn, C. (2011). Visiting 'home' contacts with the homeland, self reflexivity and emergent bilingual identities. TESOL in Context, 21(1), 42- 58.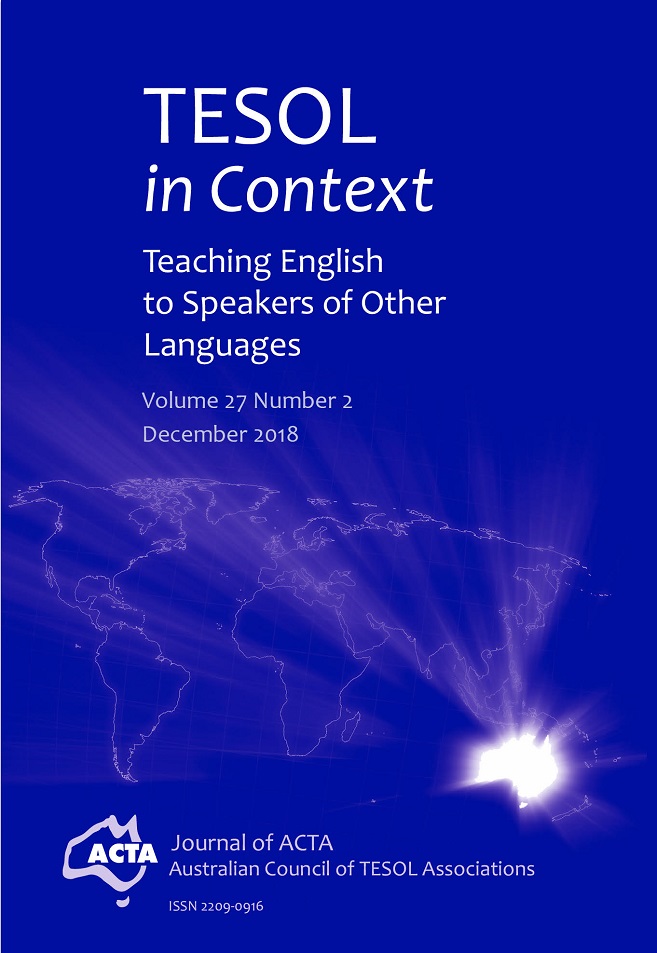 Downloads
How to Cite
Williams, A. (2018). The Ethics of TESOL a quarter century on. TESOL in Context, 27(2). https://doi.org/10.21153/tesol2018vol27no2art828
License
Copyright (c) 2018 TESOL in Context
This work is licensed under a Creative Commons Attribution-ShareAlike 4.0 International License.